Technology is applied online

Does not require shutdown or slowdown of the unit for cleaning.

Cleaning all heat transfer surfaces on Process furnace and Boilers includes :

Radiant section.
Super heater / Convention bank.
Economizers.
Air preheaters.
Waste heat boiler.

Effectively applied on units firing :

Liquid fuel :  Heavy Fuel Oil, Vacuum Tar Residue, High Pour blendstock,Orimulsion.
Solid Fuel   : Coal, Lignite.
Gas              : Sour gasses, Waste gases.

Reduces rate of fouling and deposit build up resulting in :

Improve Heat Transfer Efficiency.
Reduced temperature fluctuations' and firebox Back Pressure.
Improved Availability.
Protection of Metallurgy against Sulphuric Acid and High temperature Under deposite Corrosion.
Reduced turnaround duration / frequency.
The product is UN Certified and is an approved technology as per the Kyoto protocol in reducing green house gas emissions (via boiler energy efficiency improvement) and is eligible for CDM projects.
AAi  EnGineering the exclusive distributor and technical service provider for Therma-Chem in Indonesia, to improve boiler performance.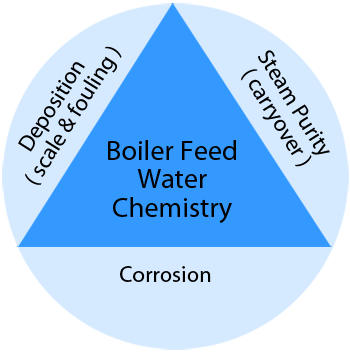 Specialist Water Treatment Plant
To get the water in accordance with the specifications and quality of the water industry as boiler
water, cooling tower water, the water needs to be held the first cleaning. The clean can be a way of physics and chemistry.
a. The goal of treatment is physical:
• The separation of coarse solids.
• The separation of suspended solids and floating.
• Separation of fat.
b. The goal of treatment is chemically:
• The deposition of substances – substances that are dissolved using coagulant.
• Eliminate toxic substances and seeds – seeds of disease.
• Eliminate baud's taste.
Tertiary Treatment:
– Sand filter
– Ultra filtration (UF), Micro Filtration (MF)
– Reverse osmosis (RO) water treatment last before use.
– Carbon filters, eliminate color and odor.
– Ultra violet (UV) light, eliminate bacterial pathogens.
– Chlorine dosing, Chlorines end.
Pretreatment Functions:
Filters                                      : Suspended Solids
Softener                                  : Hardness (Ca, Mg)
Dealkalizer                              : Hardness and alkalinity
Reverse osmosis                     : Most of the dissolved solids
Demineraliser                         : Maximum dissolved solids
Dearator                                 : Dissolved gases (oxygen, carbon dioxide).
Key issue: Steam, BFW and Make Up Water Quality.
– To meet purity steam, BFW quality should be as good as steam
– To meet BFW quality, the make – up water quality should be as good as BFW
– Steam Purity = BFW Quality = Make -Up Quality
AAi EnGineering  is the exclusive  branch official of Dynalon Tremendous Engineering   and local service for  trouble shooting WTP system at Indonesia.